John Anderson
Computer Science Department, Morningside University
BUSN 341-2: Principles of Marketing
Dr. Marilyn Eastman
February 25, 2021
Savannah Bee Company: Marketing Analysis
Savannah Bee Company founder Ted Dennard usually gave away the honey he harvested. He had been a long-time beekeeper when a friend opened a downtown store in Savannah, Georgia, and convinced Ted to sell honey on her shelves (Savannah Bee Company, n.d.). Ted's honey products attracted enough attention through small boutiques that he soon moved the operation out of his kitchen and officially started the Savannah Bee Company in 2002. In 2003 Ted visited the Fancy Food Show and was discovered by Williams-Sonoma, Neiman Marcus, and Crate & Barrel, among other large retailers. Seventeen years later Williams-Sonoma and Crate & Barrel are still offering Savannah Bee Company products for sale on their websites. In 2008 Savannah Bee Company opened its flagship store in downtown Savannah Georgia. Today the company owns and operates 15 retail stores in the United States and continues to also wholesale honey and honey-inspired health and beauty care products to thousands of stores in the United States. The company has thriving web-based sales and supports a nonprofit business that promotes honeybee education (Savannah Bee Company, n.d.). The purpose of this report is to show how Savannah Bee Company has expanded by use of product development, market development, and market penetration, and to show how the company has used social media and influencers to increase brand awareness.
Marketing Strategy
In 1999 Ted Dennard, founder of Savannah Bee Company, first envisioned the mission statement for his yet to be formed company as "to sell the best honey and beehive products while educating people about the fascinating world of the honeybees" (Dennard, 2017, para. 2). Savannah Bee Company is not a publicly held company, so the current version of the mission statement is not publicly available. However, in 2017 Dennard wrote that Savannah Bee Company's mission statement was almost identical to that original vision (Dennard, 2017). With that mission statement, customers should expect to find high quality honeys offered for sale coupled with educational opportunities when they walk into a Savannah Bee Company retail store. While the company does not sell much in the area of beekeeping equipment, Dennard (2017) said, "we do sell a whole lot of exceptional honey, honey lotions, creams, shampoos, lip balms" (para. 6). Savannah Bee Company also sells honey wines, t-shirts, and beekeeping books. The educational aspects mentioned in the mission statement have taken the form of: an educational apiary, bee garden, and observation beehive at the company showroom on Wilmington Island, Georgia; the company's "The Bee Cause Project" supplying grants to put observation beehives in over 500 schools (Alarcón, 2020); The Bee Cause Project's educational series of digital lesson plans about the lives of bees (The Bee Cause Project, n.d.). It is evident that Savannah Bee Company takes their mission statement seriously by promoting honeybee education while selling quality honey.
Savannah Bee Company has used several marketing growth strategies to move from selling in small local boutiques, then moving to wholesaling to large retailers, and finally to owning and operating their own retail stores and online sales website.
One of the strategies they have used is market development by adding retail locations, which has been one of the company's strategies from the beginning. Even though the company started by selling wholesale, "the dream was always in retail." (Dennard, 2017, para. 3) Their first retail store opened in Savannah, Georgia, in 2008. By 2017, they opened stores eight, nine and ten. As of January 2021, the company website listed 15 retail locations, all in the U.S.
Product development has also been a focus for the company. From 2012 to 2016 Savannah Bee Company's overall revenue increased by 164%. During the same period, their health and beauty line revenue increased by 545% while they increased the number of products in their health and beauty line from 15 to 60 (Kendall, 2016). Their health and beauty line products are related to honey and bees because they use beeswax, honey, propolis, and royal jelly, as ingredients. By adding these products, customers who are interested in honeybees and honeybee related causes are not limited to purchasing just honey when they make the decision to buy from Savannah Bee Company.
Savannah Bee Company also takes an interesting approach to market penetration by posting to their social media followers with recipes using honey. Not just any honey, but specific Savannah Bee Company honeys. Recipes like "Bourbon Roasted Butternut Squash with Acacia Honey" and "Crispy Black Sage Honey Roasted Brussel Sprouts." This approach not only gives followers more creative ways to use the company's honey, but also creates demand for specific varietal honeys that the company sells.
The company has many strengths. In this paper I will focus on three.
One key strength of Savannah Bee Company is marketing their honey as a unique, high quality, luxury item. Their honey is sold in glass jars that have a distinctive shape. Some of their honey is packaged in jars that look like wine bottles. Their Gold Reserve line of honey is packaged in wine bottles that are hand dipped in beeswax and are priced at $99 for a 20-ounce jar. Their Gold Reserve line currently has two honey varieties, tupelo, and sourwood. Figure 1 shows the elegant packaging and presentation of their Gold Reserve line (Savannah Bee Company. n.d.).
Figure 1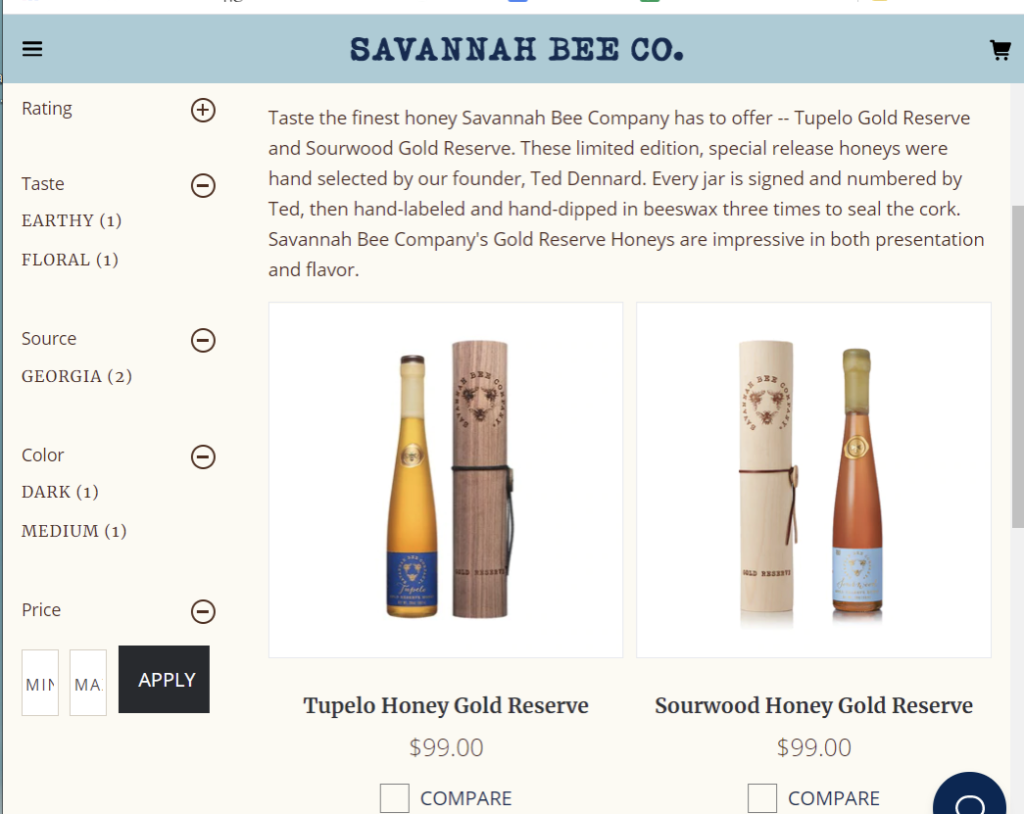 The second key strength is the high number of varietal honeys the company markets. Most U.S. grocery stores carry only a handful of varieties of honey. Savannah Bee Company currently offers 31 different varieties and forms of honey on their website. Figure 2 shows a sample of some of the honeys available (Savannah Bee Company. n.d.). The number of choices and flavors available can keep customers engaged and keep customer's taste buds interested.
Figure 2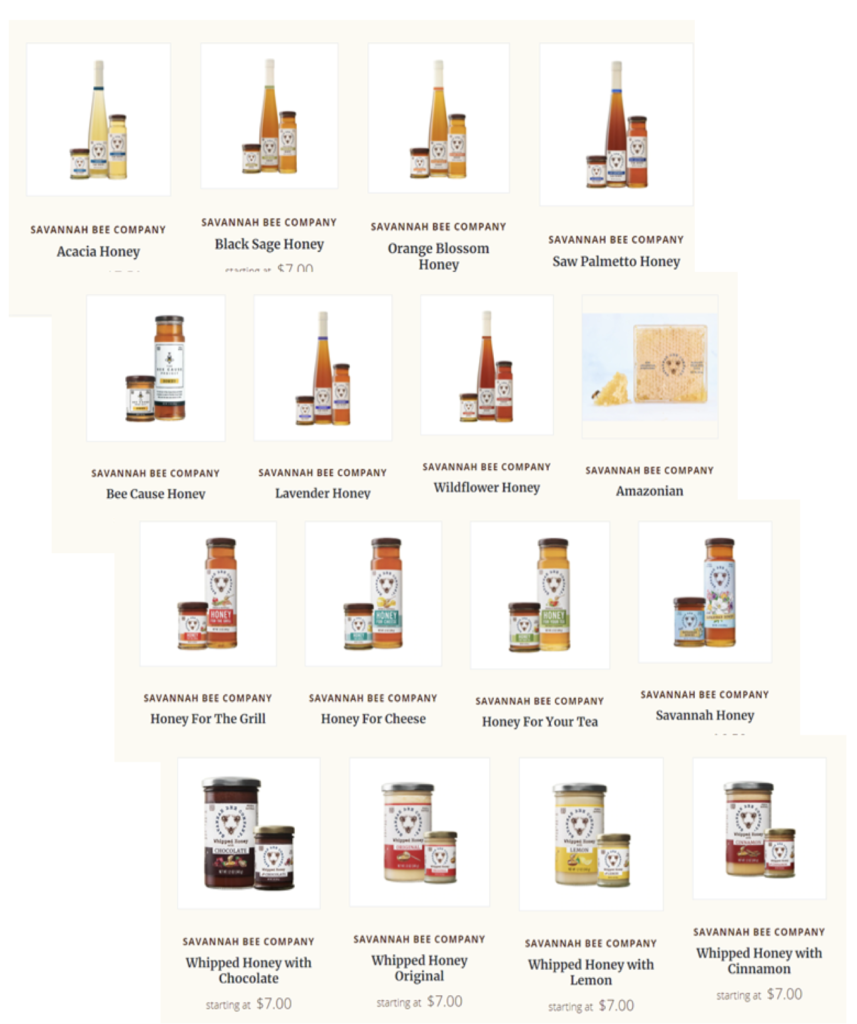 Note. This image only shows 16 of the 31 different varieties and forms of honey on Savannah Bee company's website.
The third key strength is their idea that above all else, a customer's visit to a Savannah Bee Company retail store should be fun, educational, and influential, when it comes to protecting honeybees (Dennard, 2017). Dennard (2017, para. 9) said he considers the staff of their retail stores as Bee Educators and said of the staff "they are what makes the experience successful" "for the most part, our Bee Educators seem to truly want to be working the floor of their store and they somehow manage to enjoy the day-to-day endless and mundane task(s) of any retail employee. I venture to say it is because they have fun and leave their shift feeling like they are making a positive difference in the world".
Savannah Bee Company has a competitive advantage that comes from its niche strategy of providing unique varieties of honey to customers who have a sophisticated palate and by positioning their honey as a luxury item. Customers who just want something sweet will be satisfied with almost any honey that is readily available to them. Savannah Bee Company customers are not looking just for something sweet but something that is sweet and buttery or sweet and floral or sweet with notes of caramelized molasses. The 31 different varieties and forms of honey currently offered on their website should keep those discerning taste buds interested and coming back as repeat customers.
Savannah Bee Company occasionally uses green marketing. On Earth Day in 2017 they posted to their blog with ideas on how customers can reuse honey jars to store dried herbs and spices, store paper clips and thumb tacks, or use as a flower vase (Savannah Bee Company, 2017). The post goes on to list ways that the company recycles all glass, cardboard, packing materials, and paper, that is used in their retail stores. The last section of the post says that all of the honey tasting bars and mead bars in their retail stores are made from recycled barn wood.
Marketing Environment
The marketing environment is full of trends that could affect Savannah Bee Company. Three that appear to be important to the company are cause related marketing, the increased use of social media by consumers, and the increased attention being given to social influencers.
Events during the 2020 pandemic brought many social issues into the public eye. However, even before the pandemic, companies were realizing that when done correctly, cause marketing can improve a brand's appeal (Gilbert, 2020). Gilbert writes (2020, para. 1) that "81% of consumers say that brands must earn their trust and 66% think that brands should take a stand on social and political issues". This trend is an opportunity for Savannah Bee Company to build customer loyalty by working to further causes that their customers relate to.
Savannah Bee Company has worked to raise public awareness of honeybee related causes since the company was started in 2008 (Dennard, 2017). In 2013, company founder Ted Dennard partnered with Tami Enright to create The Bee Cause Project, a nonprofit that focuses on empowering teachers, students, and members of the community to learn about, and protect honeybees (Alarcón, 2020). As of February 6, 2021, The Bee Cause Project has provided honeybee observation hives for 330 schools in 50 states and four countries (Savannah Bee Company, n.d.). The Bee Cause Project's website also has a free digital series of lesson plans and educator guides that can be used to teach school children, or anyone, about the lives of bees (The Bee Cause Project, n.d.). In 2015, Dennard and The Bee Cause Project flew 12 beehives to the island of Exuma in the Bahamas where there have been no bees as far back as the locals could remember (Alarcón, 2020). Collaborators on the project were concerned that the absence of bees was posing a threat to the pollination of native flora.
Another trend affecting Savannah Bee Company is the increase in consumer's use of social media. Alcántara (2021) stated that in 2020 the average number of impressions received by sponsored posts on Instagram increased by 57% compared to 2019. See Figure 3.
Figure 3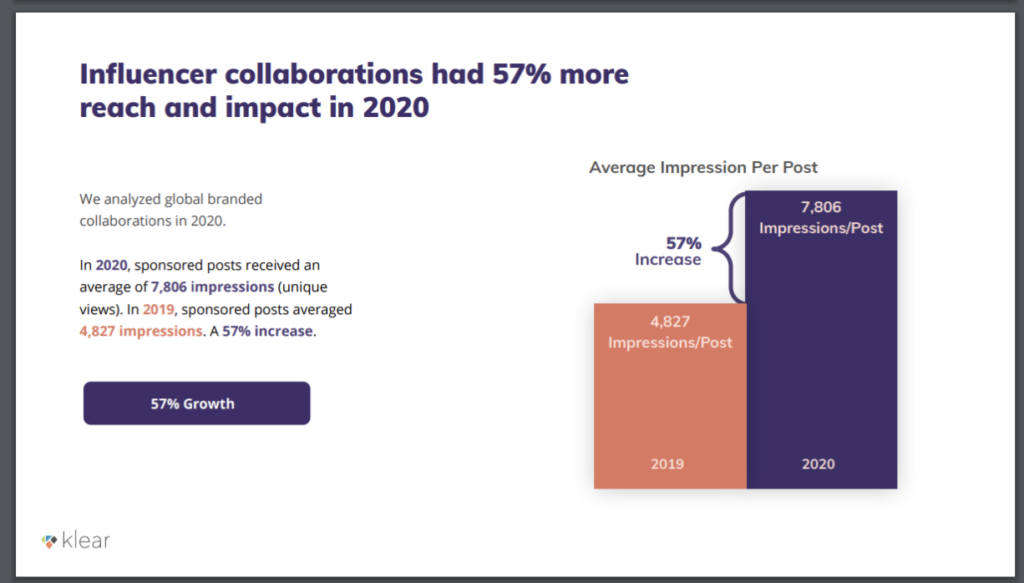 (Klear.com, 2021)
One specific aspect of this trend is that mobile and social technologies can allow consumers to have easy access to information during the decision-making process and at the point of purchase (Choi, Froth & Hearm, 2014)
Savannah Bee Company is using this opportunity to provide customers with easily accessed information at the point of sale by providing food recipes that feature their own special varietal honeys as a key ingredient. Links to these recipes are placed on the website sales pages for each variety of honey and are a featured item, usually placed above the fold of the page (Savannah Bee Company, n.d.). Recipes that feature specific varietal honeys are also the focus of the majority of Savannah Bee Company's social media posts and these posts always have direct links to the web pages where the varietal honeys can be purchased. Figure 4 shows a typical Instagram post from @savannahbeeco that features a recipe using Savannah Bee company honey (Savannah Bee. 2020).
Figure 4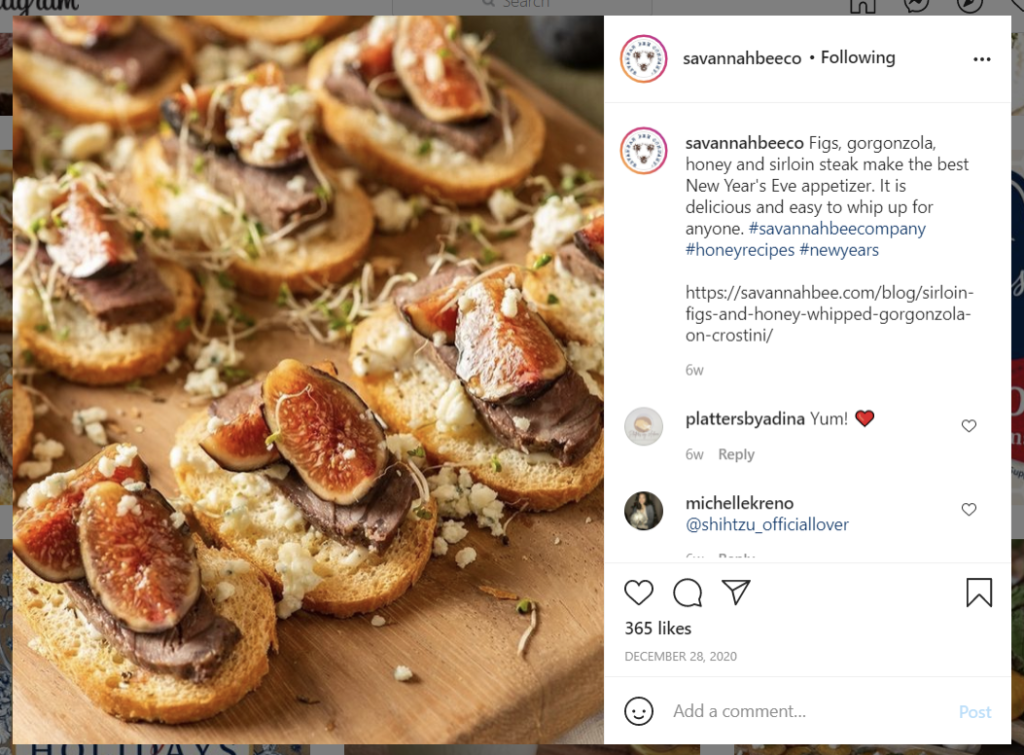 When customers consider purchasing a food item that is novel or unfamiliar to them, they doubt that they will know how to use it effectively and "the provision of recipes at the point of purchase could help people lacking this sense of self-efficacy to overcome the perceived risk of purchase." (Choi, Froth & Hearm, 2014, p. 126, Para. 3).
The third trend affecting Savannah Bee Company is the increased attention consumers are paying to social influencers. In January 2020, in a survey by Think Now (2020) asked consumers, "Have you ever (learned about and subsequently) purchased a product because of a social media influencer"? The percent of respondents who said Yes was 44% (Statista, 2020). Figure 5 shows that the two age groups from 18 to 22 and 23 to 38 are the most likely to pay attention to social influencers (ThinkNow, 2019).
Figure 5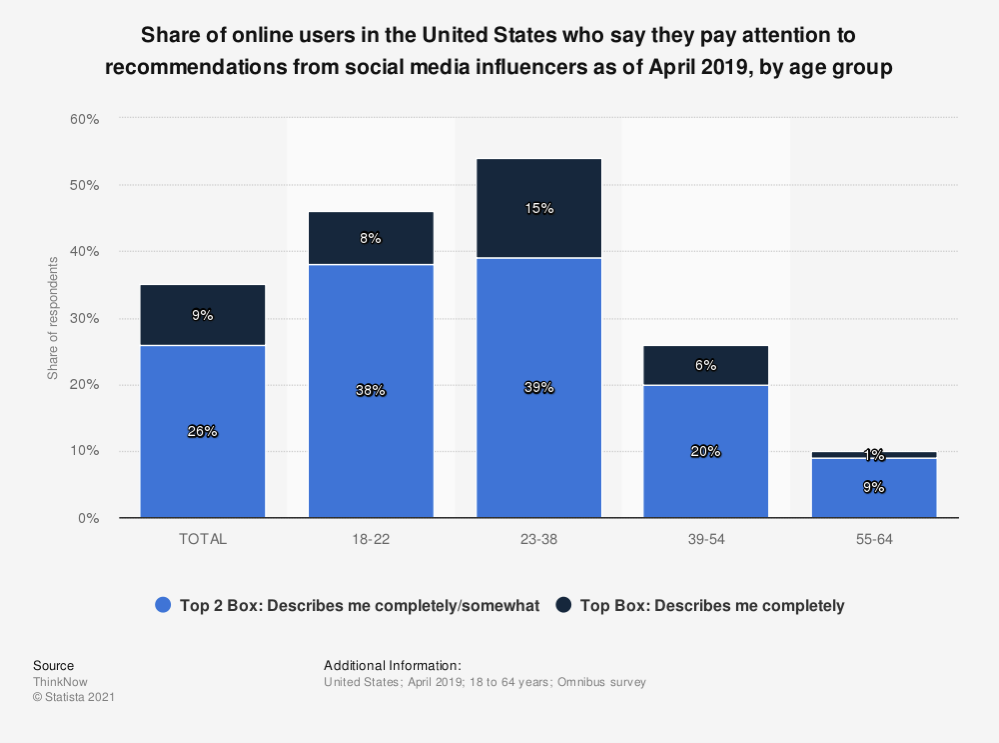 The increased attention consumers are paying to social influencers is an opportunity that Savannah Bee Company has started to explore. Their Instagram feed shows some limited use of social influencers, but most cases are organic, where the influencers themselves choose to use the @savannahbeecompany tag in their post. The company founder is occasionally a featured guest on some social influencer's feeds (Fezziwig's Marketplace, 2021). In addition, Savannah Bee Company has co-marketed food writer Sheela Prakash's cookbook, "Mediterranean Every Day", on social media sites (Savannah Bee, 2020).
Conclusion
While starting from humble beginnings, Savannah Bee Company has demonstrated an ability to grow by expanding their retail stores and by working with wholesalers. The company has also used an innovative marketing technique with their use of recipes that feature their varietal honeys. These recipes can take honey from being the nice to have, but not essential cherry on top, to being the must have, cherries in the cherry pie filling.
Savannah Bee Company has also been able to distinguish themselves as offering luxury items. While honey is the number one alternative to refined sugars (Food and Drink Innovation Network, 2017), honey is already somewhat of a luxury item with its per capita consumption rate below that of maple syrup and jelly (Store Brands, March 31, 2020). Savannah Bee Company takes luxury honey a step further and almost exclusively offers single varietal honeys, honey made from mainly one floral source. Most consumers are unaware of the variation of flavor available in honey because the market is dominated by honeys that have been blended to reach a uniform taste from batch to batch and year to year. The difference in flavor of single source varietal honeys will "hit you over the head" (Jampel, 2020, Para. 2) and is much more pronounced than the difference between single-origin coffees. While Savannah Bee Company has a strong social media presence, their use of social influencers has been limited. This is one area where they could stand to improve. With the popularity of celebrity chefs and cooking shows on channels like the Food Network, there are many opportunities to collaborate with chefs that would be a good fit with the company's image. Gourmet chefs should be able to find successful ways to incorporate the single varietal honeys into recipes the likes of which grace the pages of Bon Appetit magazine. Social influencers could offer a successful way to increase brand awareness and promote the use of Savannah Bee Company's unique honeys.
References
Alarcón, C. (2020, April 22). How a honey company in savannah is helping 15 beekeepers in the bahamas. Forbes Magazine. https://www.forbes.com/sites/claudiaalarcon/2020/04/22/how-a-honey-company-in-savannah-is-helping-15-beekeepers-in-the-bahamas/?sh=aac2cc925d98
Alcántara, A. (2021, February 1). LiketoKnow.it app tweaks search function, as shopping sites battle for users. The Wall Street Journal. https://www.wsj.com/articles/liketoknow-it-app-tweaks-search-function-as-shopping-sites-battle-for-users-11612213794?mod=searchresults_pos14&page=1
Jaz Hee-jeong Choi, Marcus Foth, & Greg Hearn. (2014). Eat, cook, grow: Mixing human-computer interactions with human-food interactions. The MIT Press.
Dennard, T. (2017, June 30). Retail dreams. Savannahbee.com. https://savannahbee.com/blog/westport
Fezziwig's Marketplace [#feeziwigs]. (2021, January 13). What's the buzz at fezziwig's? [Photograph]. Instagram. https://www.instagram.com/p/CJ_NXTIjhkV/
Food and Drink Innovation Network. (April 1, 2017). Refined white sugar substitutes that are appealing to consumers in the United Kingdom (UK) in 2016 [Graph]. Retrieved February 15, 2021, from https://www.statista.com/forecasts/1088821/purchase-motivated-by-social-media-influencer-in-the-us
Gilbert, J. (2020, March 31) Why cause marketing matters more now than ever before. Forbes Magazine.https://www.forbes.com/sites/forbescommunicationscouncil/2020/03/31/why-cause-marketing-matters-more-now-than-ever-before/?sh=6fb8f2b1356d
Jampel, S. (2020, November 13). The honey bear is cute, but these unfiltered versions taste so much better. Bon Appétit Magazine, Retrieved from https://www.bonappetit.com/story/maryiza-tasting-set
Kendal, J. (2016, October 7). International company small winner—savannah bee distributors aid growth. Atlanta Business Chronicle. https://www.bizjournals.com/atlanta/news/2016/10/07/international-company-small-winner-savannah-bee.html
Klear.com. (2021) State of influencer marketing 2021. [Graph] https://klear.com/2021-state-of-influencer-marketing.pdf?msID=5a5fc630-e56d-4769-bf81-0242b601510b
Savannah Bee [@savannahbeeco]. (2020, October 25). Who doesn't love Mediterranean food we know we do. Instagram. https://www.instagram.com/p/CGxi20NHoI7/
Savannah Bee [@savannahbeeco]. (2020, December 28). Figs, gorgonzola, honey and sirloin steak make the best new year's eve appetizer. [Photograph]. Instagram. https://www.instagram.com/p/CJWkql0nqiF/
Savannah Bee Company. (n.d.) Black sage honey. Retrieved February 10, 2021, from
Savannah Bee Company. (n.d.) Gold Reserve. [Photograph]. Retrieved February 20, 2021, from https://savannahbee.com/honey/gold-reserve
Savannah Bee Company. (n.d.) Honey. [Photograph]. Retrieved February 20, 2021, from https://savannahbee.com/honey
Savannah Bee Company. (n.d.) The bee cause project. https://savannahbee.com/the-bee-cause-project/
Savannah Bee Company. (2017, April 21) Bee green: Reduce, reuse, recycle. Savanahbee.com. https://savannahbee.com/blog/bee-green-reuse-reduce-recycle
Statista. (January 16, 2020). Have you ever (learned about and subsequently) purchased a product because of a social media influencer? [Graph]. In Statista. Retrieved February 10, 2021, from https://www-statista-com.ezproxy.morningside.edu/forecasts/1088821/purchase-motivated-by-social-media-influencer-in-the-us
Store Brands. (March 31, 2020). Dollar sales of the syrup and honey category in U.S. retail stores in 2019, by segment (in million U.S. dollars) [Graph]. In Statista. Retrieved February 15, 2021, from https://www-statista-com.ezproxy.morningside.edu/statistics/462398/us-dollar-sales-of-the-syrup-and-honey-category-by-segment/
The Bee Cause Project. (n.d.). Explore the six week bee unit. Retrieved February 6, 2021, from
ThinkNow. (October 11, 2019). Share of online users in the United States who say they pay attention to recommendations from social media influencers as of April 2019, by age group [Graph]. In Statista. Retrieved February 10, 2021, from https://www-statista-com.ezproxy.morningside.edu/statistics/1081751/attention-towards-influencer-recommendations-age-us