New queens from splitting a hive.
Back in the first part of May one of my hives started getting ready to swarm. When I discovered this, they had already started raising queens in special queen cells. Once the bees start this process it is very hard to get them to stop and you usually end up loosing half the bees to a swarm if you are unsuccessful trying to them. Rather than fighting them, I decided to split the hive into three hives.  I made sure each had a queen cell or two so they could finish raising a queen. I also started two tiny hives with queen cells as backups in case the others fail to raise a queen successfully. June 3rd I got a chance to look at the new splits and I found four of the five have laying queens. I am pretty happy with those results. This is a photo of one of the new queens.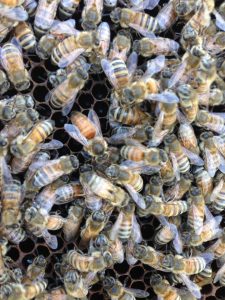 The spring fruit tree bloom was fairly strong this spring and some of my hives built up fast.  It was the first week of May when I discovered one of my hives was filling the open cells of the brood nest with nectar.  The more they do this the fewer places the queen has to lay.  Eventually they will fill the whole brood nest with nectar, the queen cant lay anywhere. The bees will build swarm cells and the queen will lay in those.  About the time the queen cells get capped the original queen and about half the bees will fly away in a swarm.  To stay ahead of this you need to make sure they have room in the brood nest when the spring fruit trees stop blooming.  If you find the bees are just starting to fill the brood nest with nectar you can add some empty frames or move some empty frames into the broods nest from other areas.  If they already have more than half of the brood nest filled with nectar then make sure two frames you add to the brood nest are un-drawn foundation.  The bees will start to draw this out and before it is drawn very deep the queen will lay eggs in it.  She can lay in partially drawn cells that they could not put nectar in.  This can head off the swarm impulse.
[jetpack_subscription_form]