Last Tuesday I went the the Siouxland Beekeepers meeting.  Something happened that made me realize, and not for the first time, that you have to always be open, otherwise you never know what you may miss out on.  I was sitting and talking with some beekeepers that I had not met before.  We were talking about pollinator seed mix and how to maintain the plot once the seed has been planted.  I was listening, and I was participating a little.  But I figured I already knew what was important regarding this topic because I had planted my own pollinator seed plot last fall and I had talked to the experts beforehand, therefore I knew what I needed to do.  But luckily I was still engaged in the conversation because one of the other beekeepers said he had a weed called Marestail in his plot and he was having to deal with it.  And I thought to myself "Marestail, that sounds like a name that could apply to the plant I see in my pollinator plot that I can't identify.  I have been wondering if it is a weed or a wildflower."  One week ago I had been in my pollinator plot wondering what this plant was and I took some pictures of it.  So I showed the other beekeeper the photos and he said "Yep, that's Marestail.  That is going to become one of our toughest weeds to control"
So I looked it up on the internet and yes, Marestail, or Horseweed, is a potential problem.  It sounds like if you keep it mowed and keep it from going to seed you can get it under control.  Luckily for me I was able to mow the areas where my Marestail is.  If I keep mowing it every time the Marestail is getting ready to go to seed I should be able to control it.
So what if I had not gone to that bee meeting?  When I took the photos I had no idea when I would run into someone to ask what the plant may be.  If I had not gone to the meeting  maybe I would not have identified that weed.  The area most of my Marestail is growing is with the clover that I planted, and I was not planning on mowing that clover.  Maybe it would have gone to seed before I identified it as a weed!  Then I would have hundreds of times more weeds next year!  It is impossible to calculate the potential value to me of that one little statement, "Well I have some Marestail in mine that I am having to deal with".  I know we all get busy and we have to prioritize, but the next time you are thinking about skipping something, remember to think about what you could miss out on.  You never know.  And always remember to stay alert and engaged, or you may still miss out, even when you do go.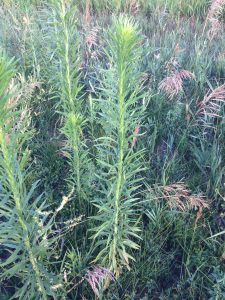 [jetpack_subscription_form]